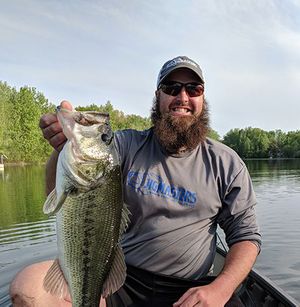 Cody Jennings - Founder of JigMasters
My father got me into bass fishing at an extremely young age and the passion for the sport has only continued to grow since! I really started to get into fishing jigs when i found a box of them in my dad's lure stash....even though i never saw he use them at the time, went to some local quarries and realized the fish i caught on jigs seemed to average way bigger than other techniques.... then i became obsessed with them. Shortly after trying many of the different jigs on the market, my nerdy engineering side kicked in, and after some design work the JigMasters Signature Flipping Jig was born! After getting many great reviews on how well this jig performed in wooded cover and seeing photos of anglers catching big bass on them.....I knew this was my passion. I left my engineering job to pursue JigMasters full time and even though i am young in this game , I am super excited for what is to come!
If anyone has any questions on the product, techniques, how the business got started, or even my long term goals with it please feel free to reach out to me whether using the contact page or messaging me on our various social media pages! Always remember when you are struggling to catch bass or you are not catching big enough bass... "When in Doubt, Get the Jig Out ! "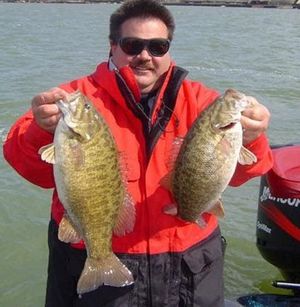 Derrick Jennings - Great Lakes Field Expert
I was introduced to fishing at a very early age and grew up fishing strip pits and streams in southern Ohio. When I moved to NW Ohio in 1981, I was quickly drawn to lake Erie smallmouths. Back in those days, there were no GPS's and there were very few people doing long distance runs and offshore fishing in bassboats, so I learned a lot the hard way. After a few seasons, I began to unlock the Lake Erie smallmouth puzzle and had a very successful tournament career amassing many wins and top place finishes. However my greatest angling accomplishment was passing on my knowledge and passion for fishing to my son Cody (owner and founder of Jigmasters). Now I have become the student as Cody introduces me to new methods and lures that were never in my arsenal. We both come from engineering backgrounds and collaborate frequently about lure designs. His pivot head has proven deadly on largemouth as well as Great Lakes smallmouth. His signature flipping head is hands down the most snag resistant jig I have thrown ( and I have thrown a lot in my day ). Watching these lures perform is nothing short of amazing, therefore I have adopted the phrase "when in doubt……get the jig out" myself. Tight lines everyone!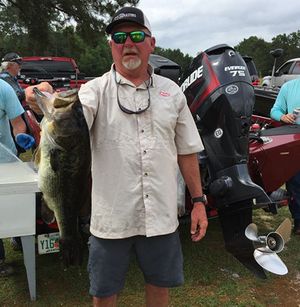 Robert Huffman - Southern Field Expert
I started Bass fishing at 12 years old up in Madison County, Ohio back in 1972. Caught my first bass on an artificial lure then, It was a Mann's scuppernong jelly worm. It was actually a pretty nice one! A little over 3lbs. From then on, I was HOOKED!! I met Cody's father at the age of 18 (Derrick) and grew the passion more and more, even though I joined the Air Force in 1983 and moved to Florida, I still stay in touch with both of them often to discuss fishing and provide lure feedback/ideas. I LOVE using the signature buzzbait (Black & Red specifically) and the HD flipping jigs to get those big Florida/Georgia/Alabama largemouth, as well as using the signature football jigs for catching spotted bass. I truly believe JigMasters has any type of jig required to catch largemouth and spots, Also having the deadliest "squeaker" buzzbait in production!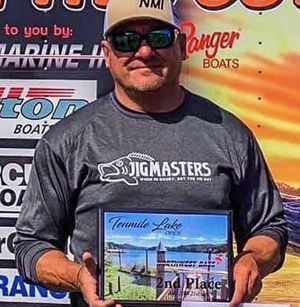 Ron Six - West Coast Field Expert
The greatest gift that I ever received from my father was the gift of fishing. My dad was a tournament fisherman on the California Delta in the 70's and 80's, He introduced that lifestyle to me at the young age of 8 years old. Since that time fishing for me has been an itch that you just can't scratch enough. I really love tournament fishing, the competition as well as camaraderie is not only infectious but fulfilling. The anxiety of fishing against the rest of the field and the clock gives me a thrill like no other sport or activity I have tried. When you get that tick on the end of the line, for that split second of time there isn't a problem in the world that exists… your mind is free and clear. Still to this day the variety of ways that a person can fish a jig is unrivaled by any other tackle that I own; add a blade and you have a chatter bait, add a swimbait and you have a swim jig, add a big trailer and you have a slow fall finesse application, add a petite trailer and you can flip and punch. Some people can be intimidated by a jig but in my boat you will be hard pressed to find less than 4 rods with jigs tied on.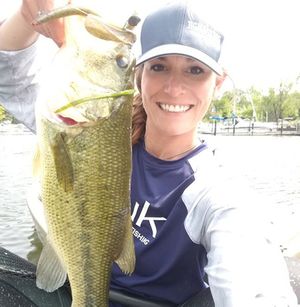 Brittney Wilton - JigMaster
I got into fishing about 3 years ago. The interest was when I saw some type of fish jumping behind my work place every evening at the same time. I was working for my family taking care of elderly members, so I had a lot of down time while they napped and what not. So I watched a few YouTube videos, bought a Shimano spinning combo, picked through some old tackle of my Grandpa's and tried to catch the big fish out back. I didn't even know that Michigan had any species of big bass worth catching, so once I was told the addiction process began. I am now a full time fisherwoman and my friends understand that this isn't just a phase I'm going through. My favorite lure of jigmasters is the signature pivot head rigged with a senko or a swimbait. Depending on the situation, it works for both large and smallmouth and I have found that quality is key when you want to catch the biggins. I want a high quality painted lure that doesn't break the bank and doesn't chip away cast after cast and this is it!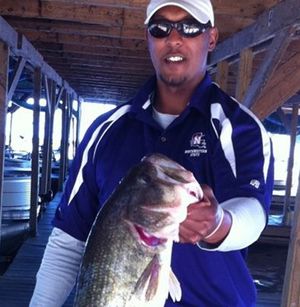 Dennis Narcisse - JigMaster
I was born and raised in SW Louisiana, I grew up fishing on the local lakes over my area at a very young age. When I am not fishing, I am talking to friends about fishing and alos love spending time with my family. The tournament bug got me in 2000 and still to this day am loving it.Not only did it help me grow as an angler, I have also made some great friendships along the way. My favorite lakes are Toledo Bend Lake Fausse Pointe, Atchafalaya Basin, and Sam Rayburn. If I could only use one technique the rest of my career, It would have to be flipping a Jigmasters Black & Blue Signature Flipping Jig in shallow cover.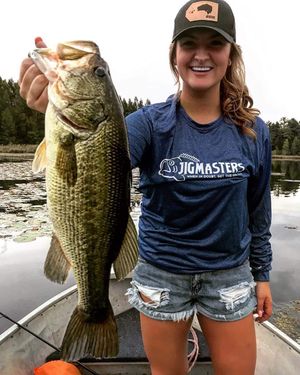 Maggie Carsello - JigMaster
My name is Maggie and I like Big Bass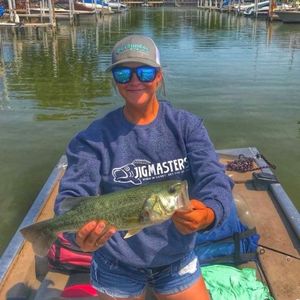 Tiffany Whiteman - JigMaster
I started fishing at a very young age at my aunt's pond in a small town in Ohio. The fishing addiction never really hit me hard until I got into high school but since then the passion has only continued to grow! My favorite part about fishing is the escape it gives me from the real world and freedom i feel when doing it! Even though bass is my favorite species to target, being near Lake Erie, I also love to walleye fish. I honestly believe anyone has the ability to fish and it doesn't matter how good you are at it or not. But in case you need a tip.... When in Doubt, Get the Jig Out !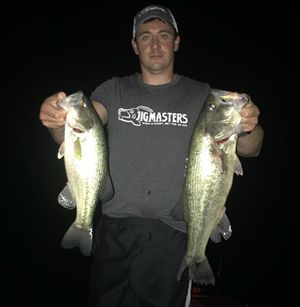 Ethan Lewis - JigMaster
I can not even remember exactly how young I started fishing as I have been doing it my whole life...well at least since I can remember, I am a Kentucky State Trooper out of Southeastern Kentucky, If you want a color not many fish have seen and straight up produces, check out the color "Kentucky Five-O", I helped develop this color with Cody and it has been Dynamite! I truly believe the jig is the most versatile bait in your tackle box and that's why it is my go to bait! I love flippin heavy cover for big largemouth and dragging a football jig for smallmouth.