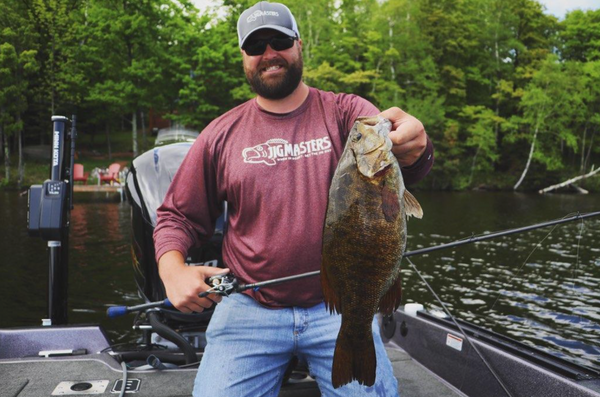 The JigMasters' Mission
Our mission is to design, produce, and sell custom designed high performance bass fishing lures as well as help anglers find other great products from up and coming companies to now only make sure you have the best jigs on the market, but also the best gear!
On top of making sure all anglers can get the best jigs and gear on the market, another huge mission we have is to help other small businesses along the way. Not just any small business, but small businesses that have exceptional products that we truly believe in and want to help our customers find!
"The Flipping style head you make was a game changer for me, it allowed me to skip way up under willow trees which was crucial for my victory in All Star Bass Fishing's Season 3 Bass Battles!"
- R. Six, Oregon
"All I can say is WOW! Fished a club tournament with 20mph N winds and very high pressure conditions, tied on the Signature Buzzbait in the "pro shad" color and on the 3rd cast had a 3lb largemouth crush it! Caught several similar sized fish throughout the tournament and had a HUGE bass miss it right at the boat! This is the best squeaking style buzzbait I have ever used. Overall review ; Fantastic Sound, tracks great, awesome trailer keeper, and most important…a GREAT PRICE…. what more can you ask for?"
- R. Huffman, Florida
"I just wanted to say the JigMaster jigs are the best jigs I've ever seen. I'm ordering the starter pack Friday and wanted to say thanks for making such a good product at such a affordable price. The trailer screw is a must for any good jig and you guys hit it right on the head. Thanks so much and you have my business from now on! Keep up the good work and happy fishing!"
- Mike B., Ohio
"Was not a believer at first, but man does your Signature Flipping Jig perform!!! Comes through vegetation and timber very well and creates a nice stand up presentation. That screw lock is awesome for keeping my soft plastic craws from slipping and tearing off your jig. Can't wait to see more and more lures come out!"
- Jeffrey S., Texas
"When in doubt, get the Jig out!"